Babbitt Bearing Repair


& Manufacturing
Our bearing services cover a large range of sizes, applications, and metallurgy, but have one thing in common; a commitment to quality that allows you to feel confident in the continued safe, reliable operation of your units.
From our rigorous dimensional analysis and strict acceptance criteria to our final NDE inspection, Hydro Richards' attention to detail and exacting processes guarantee a superior product.
Our extensive experience with babbitt bearings allows us to support our customers in more than just manufacturing and refurbishment. For bearings with poor reliability, we provide root cause analysis of the underlying problem and provide targeted solutions.
Hydro Richards has the capability to service bearings up to 100" in diameter and 72" wide, and can refurbish and manufacture new bearings in a variety of designs including:
Plain & flanged journal bearings
Tilting pad journal bearings
Radial thrust bearings
Axial tilting pad
Thrust bearings
Guide bearings
Trunnion bearings
Marine bearings
Precision Machining


& Fabrication
Hydro Richards fabricates a wide range of industrial equipment.  All equipment manufactured at our facility goes through a thorough inspection process, extensive process control procedures, stringent acceptance criteria, engineering support, and review–all carried out by an experienced workforce dedicated to providing a quality product.
Custom fabrication provides significant benefits over "off-the-shelf" products. Beyond flexibility in shape and size, custom fabrication provides a wider variety of component materials and adherence to improved tolerances.
Our precision metal fabrication and machining services include design, construction, testing, finishing, assembly, and installation. We have significant experience in various industries, including food processing, marine, mining, pump bases, and elevator equipment.
The following services are available on a 7 day, 24-hour basis:
Shaft turning to 20" diameter, (34" gap) x 120" long
Vertical turning on a 60"
Milling 80" x 90" x 42" high
Shaft cylindrical grinding between centers to 130" long
Internal cylindrical grinding to Ø36" diameter x 12" long
Surface grinding 8" x 25" x 13" long
Line and positional boring
Weld repairs to carbon steel, austenitic and duplex stainless steels
Post weld heat treatment
CNC coordinate measuring
Dye penetrant examination
Fusion Welding &
Engineered Solutions
Hydro's knowledgeable team is supported by the most comprehensive repair capabilities in the world. Expertise in pump design, mechanics, and repair define Hydro's unmatched capabilities.
Hydro Richards provides fusion welding technology for remanufactured and OEM components for high-volume surfacing, complex geometries, irregularly-shaped parts, multidimensional profiles, and threaded areas. Advantages of laser welding include:
Fusion welding of stellite and colmonoy hard surfacing

Selective hardness ranges

Various levels of corrosion resistance

Matching substrate chemistry

Minimal inter-metallic dilution

Low heat input

Low thermal distortion

Narrow heat-affected zone
Case Studies & Customer Success Stories
Quality work begins with a quality shop. Hydro Richards is fully-equipped to handle all of your rotating equipment needs. Virtually all repair processes can be handled in-house, resulting in greater efficiency and faster turnaround for your pump repair project.
Parts Solutions


for the Pump Aftermarket
Hydro Richards has the capability and experience to reverse engineer and replicate parts for a wide range of equipment. Using our Creaform handheld 3D Scanner, we can efficiently scan a part and digitize the dimensional data. The digital model created is used to machine the new component, which is then scanned using the same technology to confirm adherence to the original part's dimensions.
Reverse engineering is an important tool for supplying quality parts in circumstances where long lead times or quality issues with original equipment manufacturers have proven burdensome. It is also an essential service for sourcing parts when equipment is obsolete and parts can no longer be easily procured.
Often times, the material stated on a bill of materials varies slightly from the actual material used in manufacturing a part. As part of our reverse engineering or repair processes, we provide material testing and analysis to verify component material.
3D Scanning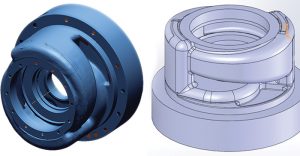 Beyond ensuring conformance of reverse-engineered parts to the original design, 3D scanning can be used for as-found component inspection. Our Creaform handheld scanner can provide a complex surface inspection, including wear analysis, 3D free form surface profile measurement analysis, and complex surface inspection.
Comparison of as-found scanned measurements to the original design can aid in understanding the drivers of component wear during root cause analysis.
Using 3D scanning technology, Hydro Richards can accurately and efficiently generate 3D CAD models and STL files. These models can be used for 3D digital preservation and archiving, creating part drawings as part of the equipment documentation, and parts library creation for as-needed rapid prototyping.
We are able to generate digital models over a variety of surface finishes, textures, colors, and levels of detail. Some of our services include:
Design modification from existing components
Advanced Class-A surface modeling and Class-B surfacing
Parametric 3D modeling in generic or native file formats
Data preparation for digital simulation
Milled Vane Impeller Manufacturing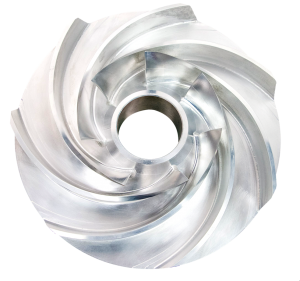 For customers that need a hydraulic component in an expedited time frame, milled vane impellers are an essential service. In contrast to cast impellers, which have longer lead times and increased risk related to casting imperfections, milled vane impellers can be produced quickly with superior quality.
Our milled vane impellers are backed by Hydro Richards' robust reverse engineering processes and Hydro, Inc.'s hydraulic design engineers. Not only can they be provided with a shorter lead time than traditionally cast impellers, but the improved surface also finish achieved through this process results in an increased efficiency and energy cost savings.